Do you have a cracked, misshapen or worn down tooth? A dental crown may be the perfect treatment solution that can give your teeth a beautiful, natural look. Here at A1 Dental Clinic, we have several years of experience in crafting dental crowns that perfectly blend with your natural teeth.
How Could Dental Crowns Help You?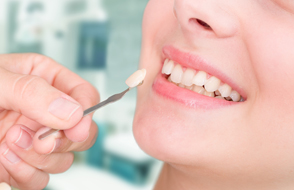 Damaged or decayed teeth can cause a lot of pain and discomfort. Rather than dealing with this suffering, you can consider having dental crowns that cover up the damaged teeth and look and function like your natural teeth. Made from porcelain, our dental crowns will provide extra strength to your damaged teeth and minimise the risk of future breakdowns. In addition to protecting damaged and decayed teeth, our crowns can also be used to cover your badly shaped or discoloured teeth.
What Does The Dental Crown Procedure Involve?
Step 1: Inspection And Consultation:
During your visit to our dental clinic, we will take a look at your teeth to determine whether or not a crown is necessary for you. Depending on your particular case, we will either recommend crowns or advise you on the suitable options. If your case requires a crown, we will proceed further.
Step 2: Preparing Your Teeth For The Crown:
To start with, we will numb the tooth and the surrounding tissues if necessary. Then, we will begin to trim the tooth and shape it to accommodate the crown. Thereafter, an impression of your teeth, as well as the surrounding teeth, is taken.
Step 3: Placing A Temporary Crown:
Our dentist will place a prefabricated temporary crown on your tooth using a special adhesive. This will protect the tooth from further damages and prevent it from shifting.
Step 4: Placing A Permanent Crown:
When the permanent crown is ready, the dentist will remove the temporary crown and scuff off the cement. After numbing the tooth, your custom-made permanent crown will be placed on it.
Would you like to know more about our dental crown procedure, teeth removal, dental implants, or other dental treatment? Give us a call on 03 93592070.