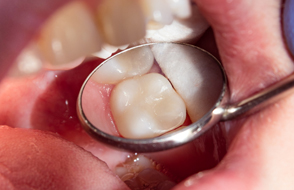 A dental filling is a treatment procedure performed to restore missing tooth structure caused by decay or trauma. As the name implies, fillings seal the cavity in your tooth. This prevents the decay from spreading to the sensitive inner pulp located in the root canal. If you have a decayed tooth and would like to get filling done, you can approach the dentists at A1 Dental Clinic. We have dedicated, experienced dentists who will evaluate your specific oral health condition and your requirements to customise the procedure for you.
When To Consider Dental Filling?
A hole in your tooth
Chipped or broken tooth
Single or multiple cavities
Dark spots on the tooth
Sensitivity to cold or hot food.
If you have any of these signs and symptoms, you may be the candidate for dental filling treatment.
What's The Procedure Involved in Dental Filling?
Step 1: We will inspect the infected tooth to determine the extent of the decay.
Step 2: To garner precise information, X-ray would be done.
Step 3: Local anesthesia will be administered to numb the area around the infected tooth.
Step 4: The dentist will prepare the decayed or damaged tooth for restoration.
Step 5: If the tooth is damaged, a small handpiece will be used to remove the damaged part.
Step 6: Depending upon your case, we will use appropriate filling material to fill the cavity.
Step 7: We will polish the finished tooth to complete the dental filling procedure.
There are several types of filling materials such as amalgam, composite resin, gold, and porcelain are available today. However, the dentist will choose the one depending upon the location and extent of the decay.
If you still have any question pertaining to dental filling procedure, dental implants, Invisalign or any other dental treatment, feel free to give A1 Dental Clinic a call at 03 93592070.