If you are yearning for straight teeth but are cringing at the thought of wearing braces, you are in luck. A1 Dental Clinic offers Invisalign – a comfortable, clear alternative to conventional braces. It will help you achieve your desired results with minimal impact on your life.
What Is Invisalign?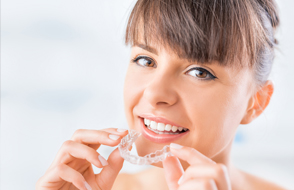 Invisalign is an invisible way of perfecting your smile without braces. This system involves a series of clear, removable plastic aligners which can gently move your teeth into their appropriate positions. Invisalign is also super comfortable because you don't have to deal with irritation caused by wires and brackets. As it is removable, you can take it out to brush, floss and eat. Moreover, it is also invisible that no one can predict that you are wearing an aligner. With all these benefits, Invisalign is certainly a great option to consider for proper teeth alignment.
How Does Invisalign Work?
During your first visit, our dentist will examine your teeth and let you known if Invisalign works for you. If you are a good candidate, we will go over the process of making pictures, X-rays and digital impression of your teeth. With all of this information, we will create a digital 3D image of your mouth. Using this 3D model, custom-made aligners are created using smooth, BPA-free plastic, ensuring a perfect fit.
How Long Should Invisalign Be Worn?
To achieve the best result, you should be wearing aligners for about 22 hours per day, though you can take them out while eating and brushing. As your teeth move closer to their ideal place, we will give you a new set of aligners every two weeks. Your treatment gets completed when you are done with your last set of aligners. By this time, you will have a beautiful smile to show off.
Would you like to straighten your teeth & have a brighter smile in a hassle-free way? Call A1 Dental Clinic at 03 93592070 and talk to us now!